The Art of the Verdi-Baritone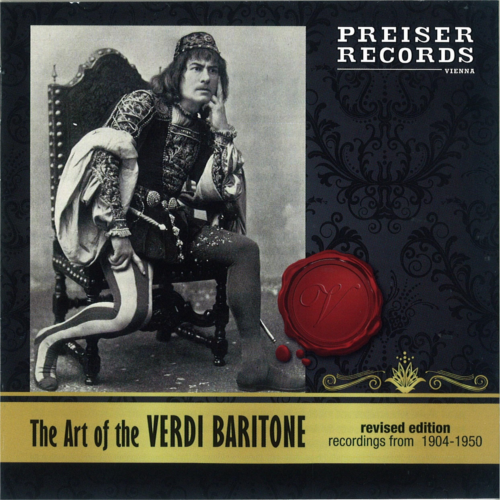 Update Required
To play the media you will need to either update your browser to a recent version or update your
Flash plugin
.
Promotion Text
The Art of the Verdi-Baritone
Durch die bevorzugte Stellung des Baritons in Verdis Opern hat sich der "Verdi-Bariton" zu einem eigenen Stimmfach entwickelt: Die Bariton-Charaktere in Verdis Opern lassen sich grob in zwei Kategorien einteilen: Vater- und Herrscherfiguren, die zwischen der Liebe zu ihren Kindern und politischen und/oder moralischen Verpflichtungen wählen müssen (Rigoletto, Amonasro, Simon Boccanegra, Nabucco, Jacopo Foscari, Guido di Montfort, Vater Germont) und jugendliche Ehrenmänner und/oder Bösewichte, die sich meist als aktive Gegenspieler des Tenors entpuppen (Carlo di Vargas in "La Forza deI Destino", Renato, Carlo V, Conte di Luna, lago). Obwohl die Zusammenstellung auf dieser CD natürlich keinen Anspruch auf Vollständigkeit erheben kann, soll diese Auswahl vor allem zeigen, dass es ganz verschiedene Zugänge und keineswegs nur EINE Wahrheit gibt und dass der Begriff "Werktreue" mitunter recht dehnbar sein kann - das Resultat aber trotzdem authentisch und überzeugend klingt. Dass Fehlen einiger bekannter Namen lässt bewusst Raum für weniger geläufige Sänger, die interessante Facetten zeigen und durchaus etwas "zu sagen" haben. The privileged position of the baritone-voice in Verdi´s operas was something new at the time and devceloped into a voice category of its own: the "Verdi-baritone": Verdi's baritone-roles can roughly be divided into two categories: the fathers and rulers, who are in moral conflict between the love for their children and moral and/or political duties (Rigoletto, Amonasro, Simon Boccanegra, Nabucco, Jacopo Foscari, Guido di Montfort or father Germont) and youthful men of honour and/or villains, who usually turn out to be the tenor's rival (CarIo in "Forza"", Renato, Carlo V, lago. Cote di Luna). Of course, this compilation can be nothing but a rough survey with some "usual suspects" missing in favour of lesser known singers - in some cases not even being primarily Verdi-specialists but yet offering new facets and having something important "to say". This selection is trying to point out different approaches to Verdi´s music and that there is nothing such as one absolute truth - also proving that strict faithfullness to the original may at times be a rather elastic term, and that, yet, the result does sound convincing and authentic.
Amazon, iTunes, Spotify & Co.