Nicolaus Zmeskall:15 String Quartets - Volume 1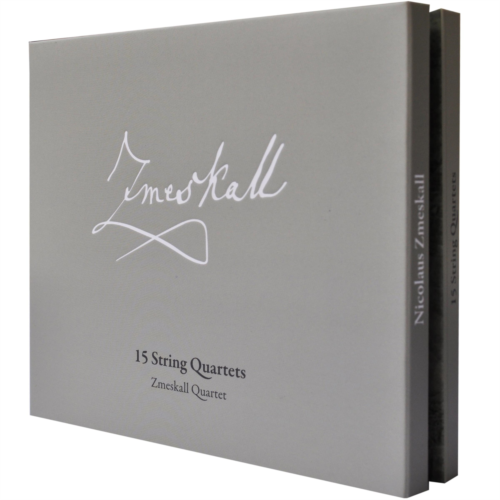 Update Required
To play the media you will need to either update your browser to a recent version or update your
Flash plugin
.
Promotion Text
Nicolaus Zmeskall - World premiere of the entire existing work - Volume 1
Nicolaus Zmeskall (*1759 Leštiny (Orava, Slovakia) – †1833 Wien) high-ranking royal officer, forgotten composer, cellist, patron of music and organizer of musical life in Vienna. A personal friend of Beethoven, Haydn and Mozart, one of the founders of the Vienna Musikverein. World premiere of the entire existing work (3CD / 3DVD Audio Suround) ZMESKALL QUARTET? A happy coincidence, curiosity, perseverance, an effort to get to the bottom of things, the truth, tireless longterm research and investigations, plus dedication and pride - all acted as a catapult for the birth of the string quartet which is named for Nicolaus Zmeskall. Fortuitously, Mrs. Anna Schirlbauer-Grossmann, active in the Austrian capital, was assigned the preparation, for Austrian television ORF, of scenarios on distinguished, unique individuals from the territory of Czechoslovakia who had completed their careers in Vienna. This activity encouraged her to search further for significant personalities springing from her native land. Among these she discovered Nicolaus Zmeskall – an excellent cellist and composer who was born in the village of Lestiny, in Orava, in 1759. Study of Zmeskall's life and work in the end proved to be most attractive, and Mrs. Schirlbauer therefore embarked on an investigation of anything that could help reconstruct the lost mosaic of Zmeskall's life. Pride and stubbornness in large doses were required to organize the International Conference on the Life and Work of Nicolaus Zmeskall, in Dolný Kubín (in his native region). In 2009, 250 years had passed since his birth, and it was the perfect opportunity to help our small world once again learn about the Slovak cellist, his close relationship to the great musica personalities of his time, and his lost musical legacy. Enthusiasm plus a fair amount of patience became fertile ground for a new recorded edition of Zmeskall's 15 quartets - the only preserved work of the Maestro. To be honest, it was very exciting to hold in our hands the manuscript pages of this master, filling us with a sense of responsibility for each recorded note. The study and subsequent recording of all fifteen quartets, as each one was recorded, resulted in the deepening of our respect for, and devotion to, the music of Nicolaus Zmeskall. The consequence of this was our decision to prolong the existence of this Quartet, and to share our enormous relish for the masterpieces of Zmeskall with the musical public. We thank all the enthusiasts and dreamers from Orava, Bratislava and Vienna, without whom this project would never have existed. Thanks to fate, we have the privilege of being the means for returning the music of Nicolaus Zmeskall to the concert hall! Your Zmeskall Quartet. Miloš Valent - violin • Dagmar Valentová - violin Peter Vrbinčík - viola • Juraj Kováč - cello
Management / Booking
Get in contact
Amazon, iTunes, Spotify & Co.