Lebendige Vergangenheit - Boris Gmyrja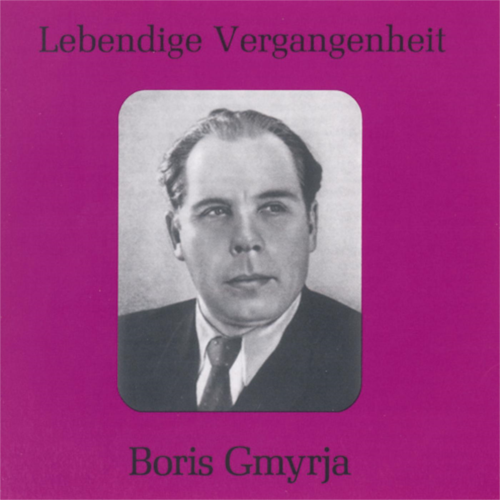 | | |
| --- | --- |
| Artist | Boris Gmyrja |
| Title | Lebendige Vergangenheit - Boris Gmyrja |
| | |
| Release Date | Saturday, September 16, 2006 |
| Genre | Classical > Choro |
| | |
| Copyright | © Preiser Records |
| Country | AUSTRIA |
Update Required
To play the media you will need to either update your browser to a recent version or update your
Flash plugin
.
Promotion Text
Lebendige Vergangenheit
Einer der bedeutendsten Gesangskünstler Sowjetrusslands war der Bassbariton Boris Gmyrja. Als Bühnen- und Konzertsänger erlangte er in seiner Heimat große Berühmtheit, im Ausland ist er jedoch nur durch seine Schallplattep. bekannt geworden - und auch dies nur einem verhältnismäßig engen Kreis von Spezialisten. Über die wahre Geltung dieses außerordentlichen Vortragskünstlers wird man sich erst in neuerer Zeit, viele Jahre nach dem Tod des Sängers, im Klaren. Im Sängerlexikon von Kutsch und Riemens wird Gmyrja als Bariton bezeichnet, richtiger wäre jedoch der Terminus Bassbariton. Im Opernrepertoire des Sängers, das 36 Werke umfasste, finden sich außer dem Boris Godunow (einer seiner größten Erfolge) auch der Leporello in Mozarts "Don Giovanni", die Titelrolle in "Iwan Susanin" von Glinka, der Müller in Dargomyschskys "Rusalka", Salieri in Rimsky­ Korsakoffs "Mozart und Salieri", Gremin in Tschaikowskys "Eugen Onegin", also fast durchwegs Partien, die dem profunden Bassfach angehören. Der Klangeindruck von Boris Gmyrjas Stimme vermittelt allerdings nicht jenes Tonbild, das wir gemeinhin mit dem russischen Basscharakter verbinden. Eine weiche, ebenmäßige Stimme von edler Abrundung, ohne jene Kanten, Schärfen und Rauheiten, die uns bei Sängern slawischer Herkunft häufig begegnen. Die relativ helle Färbung des Organs mag dazu verleiten, den Sänger als Bariton einzustufen. Boris Gmyrja stammte aus der Ukraine, er kam in der kleinen Stadt Lebedin als Sohn eines Maurers zur Welt. Bereits als Elfjähriger war er als Lehrjunge tätig, es folgten Jahre, in denen er in allen erdenklichen Berufen arbeitete, als Matrose, als Heizer, als Hafenarbeiter. Nach seinem Militärdienst im Weltkrieg verschlug es ihn nach Charkow, wo er einen Fortbildungskurs für Mechaniker besuchte. Mittlerweile hatte er sich mit seinem Gesangstalent eine gewisse Bekanntheit erworben. Sein Vortrag von Volksliedern aus seiner ukrainischen Heimat fand immer größere Aufmerksamkeit, schließlich wurde bei ihm der Gedanke wach, die Künstlerlaufbahn zu ergreifen. Der bereits mehr als Dreissigjährige besuchte nun das Konservatorium in Charkow. 1936 wurde Gmyrja als Ensemblemitglied des Opernhauses Charkow aufgenommen. 1941 kam er an das Opernhaus Kiew, dem er bis zum Ende seiner Bühnenkarriere (1962) angehörte. In seinen ersten Sängerjahren gewann Gmyrja eine Reihe von nationalen Gesangspreisen, im Laufe seines Wirkens wurde er mit vielen hohen staatlichen Auszeichnungen bedacht. Durch Tourneen sowie auch durch Radiosendungen und Schallplatten erreichte er große Popularität, nicht zuletzt als Sänger der ukrainischen Lieder, die er auch in seinen großen Erfolgsjahren immer wieder vortrug. … Boris Gmyrya was born in Lebedin, a small Ukrainian town in the Sumy Region. His father was a stonemason all of whose children revealed a love of music, and especially of their native Ukrainian songs of which Boris knew a great number already as a small boy. At the age of eleven he started working as an office boy; at sixteen he found himself in Sevastopol where he worked as stevedore, stoker and sailor. After the Civil War Boris engaged in trade union activities in the Poltava Region, and in 1927, after a course at a worker's faculty, entered the Kharkov Construction Institute. This was the time when music and in particular singing began to preoccupy him more and more. An active participant in local theatricals, Gmyrya soon began to be known in his town for his remarkable voice. This led him to the Kharkov Conservatory in the class of Prof. Pavel Golubev, and for a while he combined studies at the Institute with those at the Conservatory. On graduating from the Institute Boris Gmyrya for some time did research work. However, his interest in singing gained the upper hand. In 1936, while still at the Conservatory, Gmyrya was accepted into the Kharkov Opera Theatre, thus launching on a career of an artiste, one full of search, creative doubts and great achievements. Boris Gmyrya first gained recognition in 1939 when he was singled out for top honors at the nation-wide vocalists' competition; this was followed by his first tour of the country. In 1941, as soloist of the Kiev Opera Theatre he was conferred on the title of Honored Artiste of the Ukrainian Republic and in 1951 - of the People's Artiste of the USSR. That same year Boris Gmyrya was awarded a State Prize, and in 1966 decorated with an Order of Lenin. Tue singer's first parts on the operatic stage were Gremin in Tchaikovsky's "Eugene Onegin", the Sultan in Gulak-Artemovsky's "Zaporozhye Cossack Beyond the Danube" and Boris Godunov in Mussorgsky's opera of the same name, apart which he had prepared at the Conservatory opera studio for the centenary of Mussorgsky' s birth, and which had been his graduation work. Fifteen years later Gmyrya again appeared in the role of Boris at the Kiev Opera, a role on which he worked with great persistence, meticulously studying the score and author's every remark, and adding ever new colors to his portrayal. Gmyrya repeatedly wrote and spoke of Mussorgsky as being his favorite composer, also of his learning a great deal from the Russian classics. An important place in Gmyrya's repertoire was held by character roles. He was an excellent Sobakin in Rimsky-Korsakov's "Tue Tsar's Bride", and Miller in Dargo­ myzhsky's "Tue Mermaid", Tikhon in "Tue Dawn Over the Dvina" by Yuri Meitus and Trofim in Verikovsky's "Tue Farm Hand". Gmyrya's vast repertoire included 36 opera parts, the last of which, that of Salieri, he presented in …
Amazon, iTunes, Spotify & Co.