Blank E.p.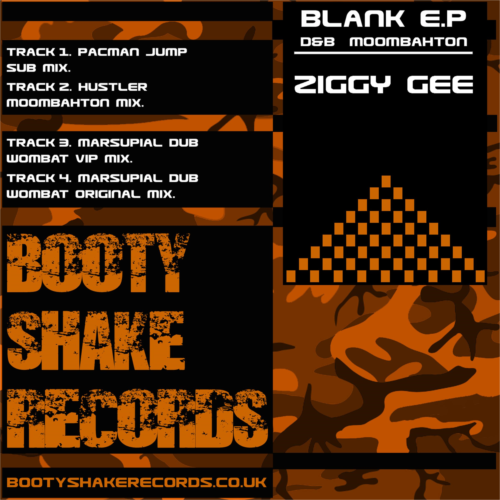 | | |
| --- | --- |
| Artist | Ziggy Gee / Ziggy Gee. |
| Title | Blank E.p. |
| | |
| Release Date | 2013-01-31 |
| Genre | Dance > Drum & Bass > Drum & Bass |
| | |
| Copyright | © Bootyshake Records |
| Country | UNITED KINGDOM |
Update Required
To play the media you will need to either update your browser to a recent version or update your
Flash plugin
.
Promotion Text
Blank E.p.
Blank E.P. Ziggy Gee BSR: 067 - Pac-Man Jump - Sub Mix - Ziggy Gee. When Video Games Go Bad! This is the sound of a gang of Pac-Men terrorising the neighbourhood. Tearing up the speakers Drum & Bass style, Pac-Man Jump is an absolute killer. Nuff said. BSR: 068 - Hustler - Moombahton Remix - Ziggy Gee. Remastered. Clearly Señor Gee has been away on holiday (I suspect he is embezzling the record label's money). On listening to his latest release, you would be forgiven for thinking he has been to the South Americas for a little trip. Wrong, he was at Serbia, so I have no idea where the inspiration for the tasty Moombahton track came from. It is certainly a huge departure from his usual stuff. BSR: 069 - Marsupial Dub - Wombats VIP Mix - Ziggy Gee. Variation In Production & Remastered. Ziggy Gee adopted a Wombat last month, it came today but unfortunately due to lack of air holes in the box, it died in transit. To make matters worse, he did not sign for it unchecked so FedEx will not take responsibility. A lot of things are on Mr Gee's mind at the moment. The wombats family, Wombat disposal & Can he eat the wombat, would he get in trouble for putting the wombat in the garden wheelie bin as it is technically compostable. This tune is in the loving memory of Wilbert Wombat... BSR: 070 - Now here is a man who knows a thing or two about Marsupials, he has hundreds of DVD's, Magazines, T-shirts, Key-rings, Badges and a whole load more Marsupial paraphernalia. I think his favourite has to be "Wombat Monthly", as they always give away a big poster for free, and his studio walls a covered in these classic wombat posters. Speaking of studio's, Ziggy Gee's version of Marsupial Dub is a dark and disturbing Drum & Bass number with a serious jump up bassline and skull rattling breakbeats, my neighbours hate it already.
Management / Booking
Get in contact
Promotion plan
| | |
| --- | --- |
| 09.02.2013 | Rhythm Attak - Inverness |